You've already done part one of the First Year Baby album, right? No worries if you haven't. It is easy to catch up.
Step 2: Buy sticker letters & numbers plus find 5 baby pictures for months 4-8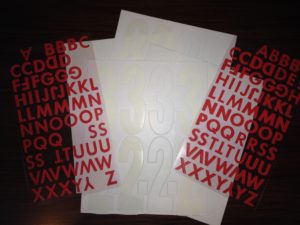 You will need enough letters to write out the word, Month, twelve times and the word, Newborn (if you choose). Some alphabet packs have 2 sheets of letters, so look closely. For the numbers, I used 3″ letters as I wanted the picture and the number to be the biggest things on the page.
Keep your eyes out for other fun stickers to embellish the pages. Cute animals, flowers, etc.