Ah a race costume, the one place where I will agree runners can go a little crazy. But I do really love the creativity. As previously noted in my post about a Tangled running costume, I am not as adventurous as some (I need all dri-fit fabric, for example) but I do try.
If you are thinking of running in a runDisney race, I highly suggest researching all the great previous runner costumes as inspiration. I am a big fan of Disney races but you'll want to participate in the costumes, if only a little. It is just too fun not to.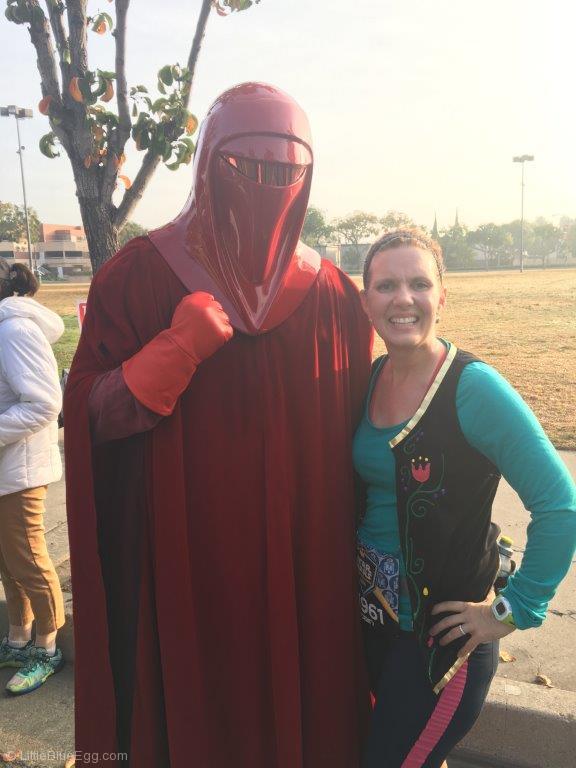 RunDisney now has two races themed to Star Wars, one on each coast. One is Light Side, the good guys, and the other is the Dark Side, all the bad guys. I had run in the StarWars races and been to Comicon, so I wanted to incorporate a little princess in my next costume vs. Star Wars only. My husband suggested a mash-up. What? Once I googled, I saw how very cool this could be for a race.
I choose Anna from Frozen's colors and design to mash with the Han Solo's outfit. Even better I came across other Han Solo mash-ups while waiting in line for a photo ops during the race. The best was a Woody from Toy Story + Han. Love it!
Anna Solo Costume Plan
Teal/blue long sleeve running shirt
Black vest with Anna-like designs
Navy capris w/pink stripe down the side
Hair in braids
The vest seemed to be the most important and time consuming so that's where I spent the bulk of my time.
Vest Race Costume Supplies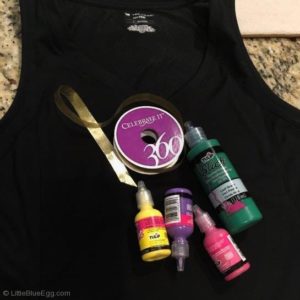 Black tank top
Fabric paint (pink, yellow, green & purple)
Gold ribbon
Glue gun and/or liquid stitch
Sharp scissors
Cardboard
Vest Instructions
Cut your tank up the middle and either sew or liquid stitch the ends. Your tank turned vest will not close now, Han always had his open so you are good. I was initially worried the vest would flap around but I found once the floral patterns were on, it was weighed down a bit and had no troubles while running.
Print out an example of the floral pattern you want to paint onto the vest. I found it was easier for me to print a coloring page or stencil from the internet and just note which element was a specific color.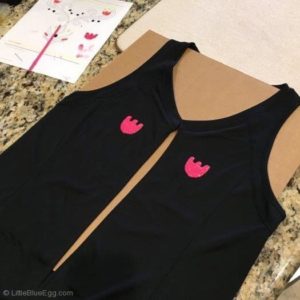 3. I chose to do the larger pink flowers first to get their placement the best. The green swirls were easier to freehand later to fill the space. I will say, if you are a fabric paint novice (like me) it is best to make the flowers the size you want initially. I tried to go back and make them larger and they didn't look as nice as the initial application of paint.
You'll want to touch and try on the vest as you progress. Hold off so it dries completely. I know it is difficult, just hold out as long as possible. Your counter or table will be thankful for the cardboard saving them from any paint.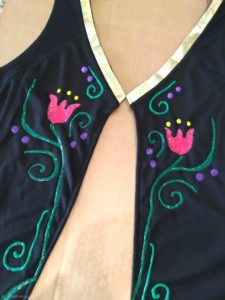 4. Attach the gold ribbon with hot glue or liquid stitch. It is easy to get too worried over details like finding the size of ribbon that perfectly matches the edging of the tank. Remember it is ok to not be perfect. You just want people to recognize the character(s) you are. I promise your pictures will turn out fantastic if the ribbon is 1/2″ or 3/8″ either way.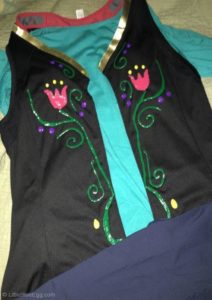 Remaining race costume hints
I went through a couple of versions of the stripe down the capris. Might have even had a slight meltdown where I debated whether or not the stripe was necessary. Can you image Han with no stripe? Good thing my neighbors don't really seem to watch me too closely when I do a mid-week run costume test. The winner…..a pink ACE sports tape. The tape did need to be applied to the capris once on. So you will need another set of hands. But it stayed on for the entire 13.1 miles!
Sadly the braids did not last. It was just too humid and I need my hair up. I didn't think I was too particular on that one, but apparently so. All turned out well.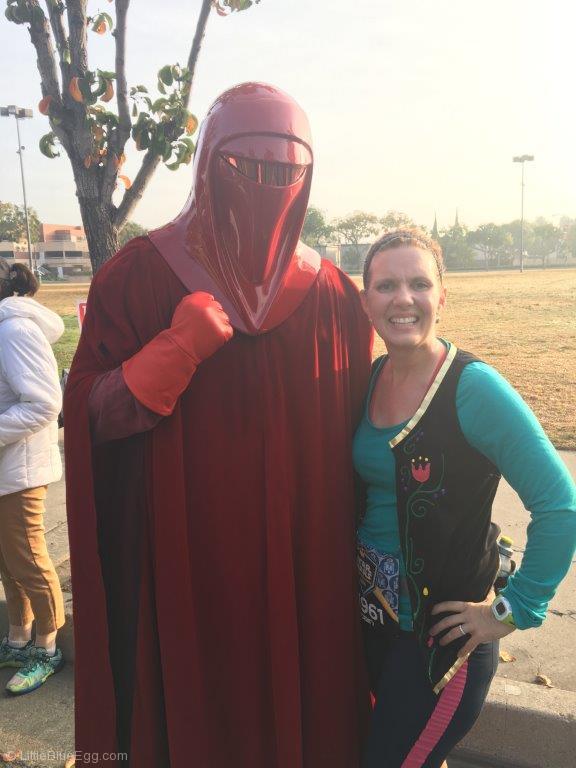 Hope this helps give some ideas for your next race costume, Disney or not!