As I mentioned in my Princess Inspired Letters post, I'm very lucky to have friends that let me join in on the fun of planning their daughters' birthday parties. Plus this one was Princess themed! No way I would turn that down.
Princess Letters that spelled the birthday girl's name, cake pops and Cinderella shoe favors were on my list. The printables from Amanda's Parties To Go Etsy shop were so well done, each decoration, favor, etc. really made the party.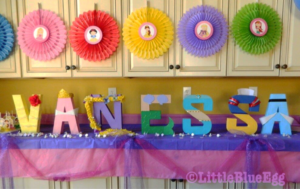 In general, I'm just ok with cake pops. There are people that have incredible talent (and patience) with decorating cake pops. This is not me. So when I say how much I was impressed with the final outcome….I plan on having some sort of image/printable on my cake pops from now on. Throw on a matching ribbon. Perfect!
Oh the shoe favors. Too cute. I have blogged previously on this paper shoe template I used to make witches shoes. With a change to vellum vs. scrapbooking paper, ta da they morphed into glass slippers. The vellum definitely isn't as sturdy as scrapbook paper but once assembled and full of candy, they were fine.
It really was the most fun party to put together. So many princess details. Be sure to check out my post on how to make the princess letters. The birthday girl still has them in her room!