Red, white and blue, the perfect color combination. Throw in some stars & stripes and I'm sold on whatever craft I find. Below are a few of my favorites.
Flag Luminaries
Have a few jars hanging around? I do love and use them often. Vases, perfect for mixing salad dressing and apparently also luminaries. I used a pint jar in this case but I think a bit bigger one would work even better. The flags were the small (4″x6″) ones you see 3/$1 usually around patriotic holidays. You can tape the flag down but hot glue worked the best for me. I didn't finish the top, but you could with twine or ribbon. I just figured once the votive went in, it was too dark to be looking at the top of the jar. Super cute lined up on a porch or table.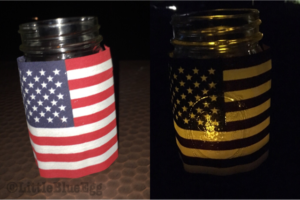 Stars & Stripes Wreath
A patriotic wreath on your door is just an easy touch that really signals Happy July 4th! or Happy Veterans Day or even Flag Day. I say use it whenever you can, you worked on it, totally put it out there. Plus, I'm a sucker for a cute wreath.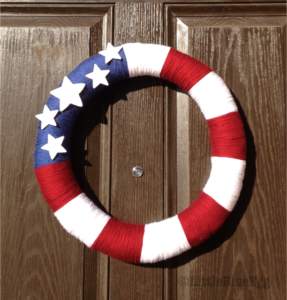 Truly just wrap yarn around a wreath form. I tend to use the straw wreath forms and keep the clear packaging on them. Cleaner and to be honest, what my local store has on sale most often. The stars are wood stars from the craft store painted white. But certainly pre-cut white stars out of white foam, would totally work. Hot glue those suckers on and wala, perfect patriotic wreath.
Bow & Stripes Shirt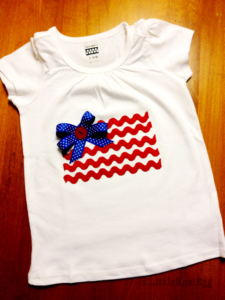 Love this cute toddler shirt. A little rick rack, ribbon, button and fabric glue is all you need. The bow is just individual loops glued together. Certainly you could stitch them as well. Be sure to test the underside when you are done to make sure the shirt won't be too scratchy on a little one's chest.
Stars & Stripes Pie
I might make a version of this pie every year. In truth mostly, because I like blueberry pie and my husband likes cherry, so it is the perfect compromise. And honestly, isn't that what marriage really is an exercise in?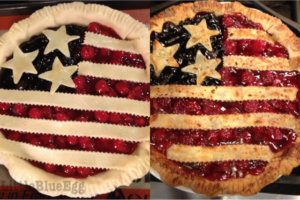 There is nothing homemade here, just quality time with a rolling pin, star cookie cutter and a knife. I have no doubt someone's grandmother's dough recipe would make this over the top, but pre-made dough and filling from the can works just fine. Tip: to make the clean separation of blueberry and cherry filling, use pastry scrapper to fill either side, then slide out.
Red, White & Blue Strawberries
Chocolate, sugar and strawberries, all good individually, certainly fantastic together. Dip clean and dried (less moisture, the better the chocolate adheres) strawberries into melted white chocolate. I found if you use a taller vs. wider container for the chocolate, the easier the dipping of the strawberry.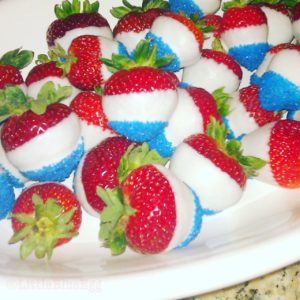 Try your best to have a thin layer of chocolate. I know, less chocolate??? what am I thinking? but I promise once you dip the tip of the strawberry into the blue sugar and then sit on parchment paper to dry, the better the strawberry will look. Definitely taste test this one. After all, once you set a plate of these out, they'll be gone in a flash.
Flag Stand
Who knew Lowe's would be a great resource for crafts and decorations? This is not the first time I got a good idea from them. But how could I resist a new way to display all the flags I've somehow accumulated?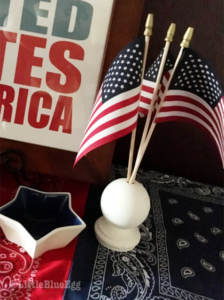 Drill a hole in a finial/post cap. Yep, that's it. You can buy a finial for less than $10. It will have a screw in the bottom which is easy to remove. The tricky part is drilling the hole in the top. Lowe's just might do this for you. In my case, I had my husband drill it since there are all sorts of tools in my garage I have no idea why he has, but if one can be used for one of my crafts – – well then it should be!
I painted mine matte white. But once done, I wish I would've used glossy paint. A variety of finials grouped together would look great.
Looking for a red drink? Be sure to read my post on watermelon margaritas. So fresh and yummy!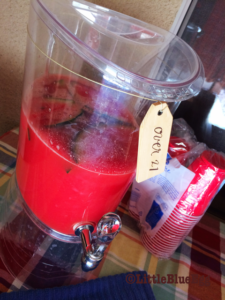 This post contains affiliate links.