Typical conversation with my husband. 'There's a <insert sport> game coming up. What should we make to eat?' Isn't that everyone's first question? Game day food is important. Especially when not everyone is a fan of sports.
Good thing we watch big games with our friends. We are forever trying something new for game day food. Sometimes it is a win (see pizza dip post) and sometimes not so much.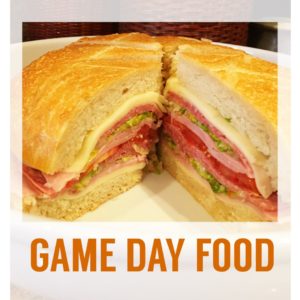 But here's our latest win, a sandwich. No joke. Nothing fancy but man, was it tasty. Think muffuletta without the olive tapenade.
We used:
9-10 inch round bread
1/4 lb. Provolone sliced cheese
1/3 lb. Ham, sliced
1/2 lb. Salami, sliced
Lettuce, shredded
Tomatoes, sliced
Italian salad dressing
Dress the shredded lettuce with the dressing. Not too much, but keep in mind, this is the only moisture the sandwich will have.
Split the bread in half and scoop out some of its inside. This will allow for a better ratio of meat/cheese to bread and easier to eat.
Start layering the rest of the ingredients. Be sure to end with cheese slices next to the bread so the dressed lettuce doesn't get the sandwich soggy.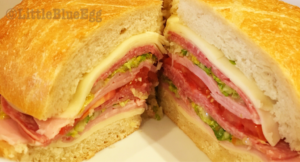 Top with other half of the loaf. Wrap in plastic wrap and put a plate/dish or something with a little weight on top of the loaf. This will help to condense the inside ingredients. Let sit inside the refrigerator for a couple of hours. Cut into wedges to serve. Enjoy!