Sometimes I love the candy holidays, but sometimes a good non-candy gift wins out. A quick Valentines Day gift of felt fortune cookies, not only fits the non-candy idea but is also such a sweet way to let someone one you are thinking of them.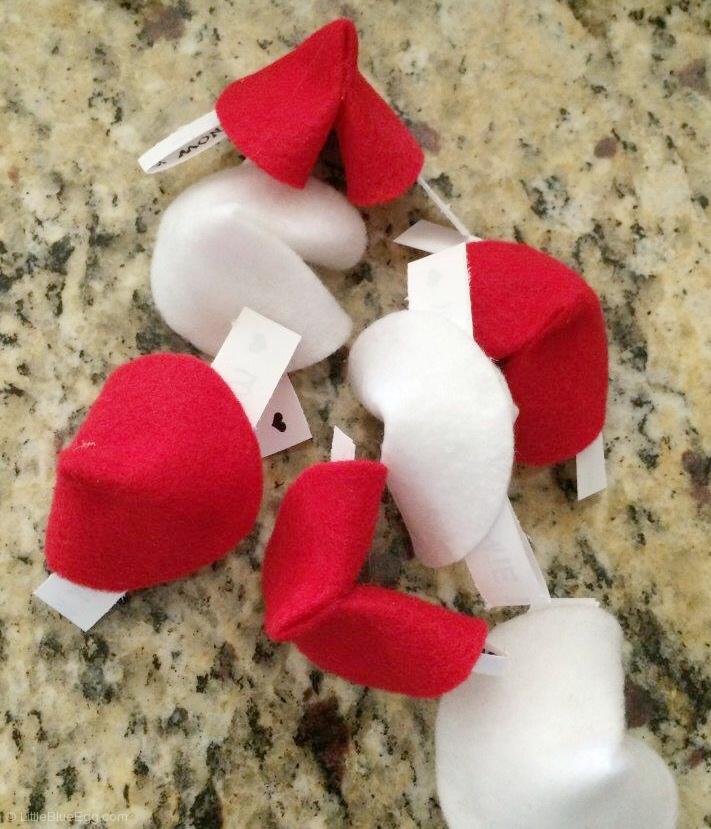 There are plenty of felt fortune cookie how-to's out there. Some use wire, pipe cleaner or even stitches. I just used my trusty glue gun and I think they turned out fine, one less craft supply to buy!
Felt Fortune Cookies Supplies:
Bowl or cup to trace for a circle. Anywhere from 2″ to 4″ is probably the closest to a real fortune cookie, but who wouldn't like a bigger one?
Black marker
Multiple colors of felt
Scissors
Glue gun + glue sticks
Strips of paper, slightly larger than the diameter of your circle.
Optional: Chinese take-out box
Felt Fortune Cookies Instructions:
Trace circles on the felt with the black marker. Cut out circles from the felt while glue gun is warming up.
Fold a circle in half and place a small amount of glue on the curved edge inside of the circle.
Insert a strip of paper with a sweet Valentines saying or 'best wishes'/'congratulations' inside the circle. Lots of possibilities. Would be cute for a Smart Cookie display for school graduations, for example.
Pinch together the sides of the half circle and glue in place.
Continue until your box is full.
A sweet non-candy idea to give to someone special. May you make many cookies and not burn your fingers on the hot glue.