I love watermelon, never did as a kid, but now….can't get enough. So as we are coming to the end of summer, grab the last of the watermelons while you can. I never thought of carving them but once I carved letters into one, now the possibilities are endless. I chose to do mine for a Back to School party. Perfect. Now I want to carve letters into all types of gourds…look out.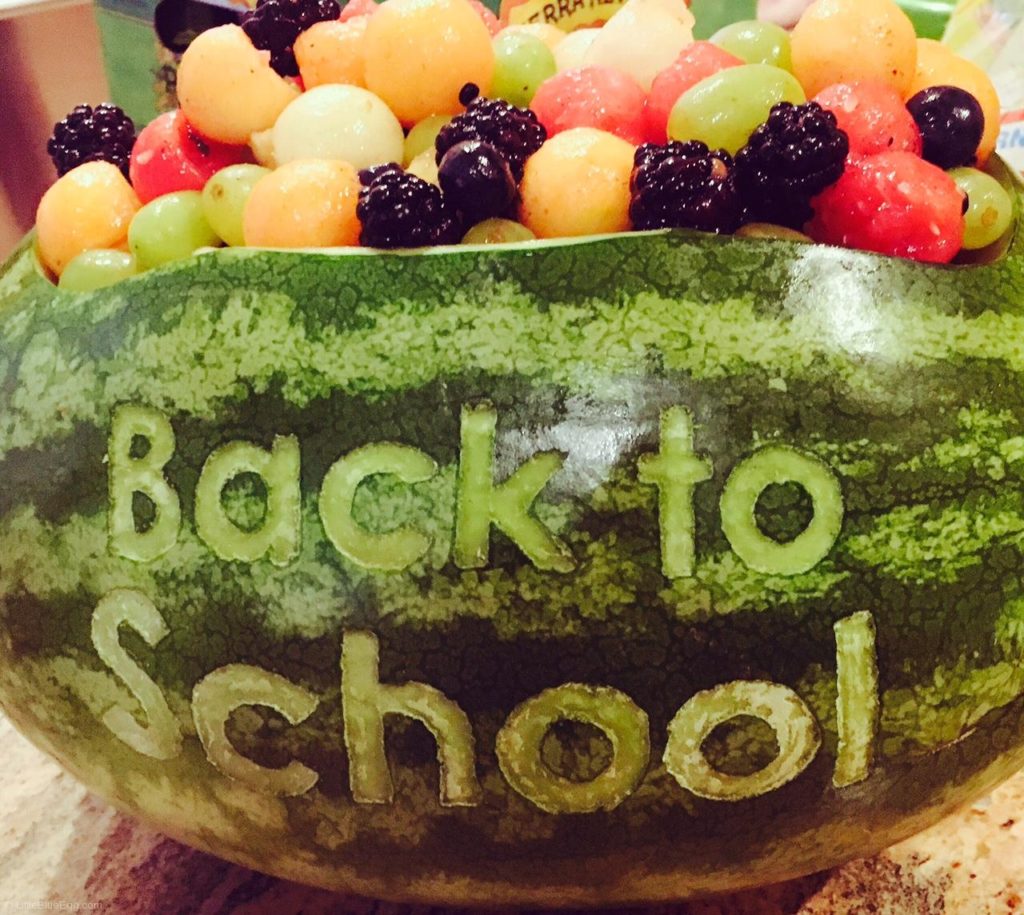 Supplies:
Watermelon – I chose a pretty large one with plenty of room for 2 lines of text
Printed out word choice – I did each word on its own sheet of paper. I think this really helps with keeping the words straight on a curved surface
Tape
Pin, toothpick or something to poke through the printed paper
Dremel with attachments or pumpkin carving tools to take off the melon skin
Here's a great step-by-step video if you need a visual: how-to-carve-a-watermelon
Carved Letters Hints:
Since you are only taking off the melon skin, you don't have to hollow out the watermelon first. In fact, leaving it intact will give you a sturdier surface for carving/scrapping.
Each word on a separate piece of paper really helped me to position the words. I did the lowest/closest to the counter word first to make sure I could read it once done. Taped the printed word, poked the holes…then scraped the skin. Repeat with the next word making sure the space between the words wasn't too crowded or too far apart. Remember you'll be taking 1/3 of the top off to insert your fruit salad later.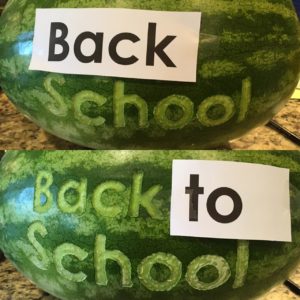 Just like carving a pumpkin, taking the time to poke the design, in this case the words, with close holes makes the carving easier.
We found it easier to outline the letter first with the dremel, then take away the inside of the letter. See the video below.
Learn from us, block letters may not be your friend. A more scripted letter might be easier so you don't have to be so perfect on your carving skills.
I loved the way this turned out and can see doing this in the future for all sorts of events; end of school year parties, baby or wedding showers, July 4th parties, you name it.
Be sure to also check out my recipe for a great watermelon drink if you find yourself with too much watermelon hanging around.
affiliate links included